All Volunteers Welcome!!!
GCCP always welcomes volunteers to give a hand with a wide variety of things that are going on.  Wednesday has traditionally been our Volunteer/helpers day and we have welcomed all ages to join us in tasks around the Project and shared a Volunteers Lunch provided by the Project to say thank you.  It is now possible to volunteer on a variety of days and times of day by prior arrangement ( as we need to avoid times when the premises are in use and access would be restricted).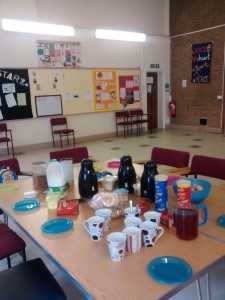 What help do we need?     
Office help, decorating, diy, tidying, keeping the play area sorted, gardening in all areas, keep notice boards up to date, picking and processing fruit, sewing, mending, IT….. including:
The Northumbria in Bloom award winning garden spaces are always in need of extra help from pulling weeds to growing fruit, veg and flowers.   If anyone is interested in having a small plot in the gardens for growing-your-own please get in touch as we may be able to help with this too.
The Office will always find things to do for willing hands and minds!  Paperwork multiplies constantly and helping us to keep it in order and deal with it is always welcomed. Everything from keeping records, filing, making phone calls, replying to emails,  to sending out reminders for all sorts and helping with publicising upcoming Project events and making contacts with the local Community.
Volunteering does not mean committing to a particular day or time or to regular visits.  It can be just what you can offer –  one-off, occasional or regular. Knowing in advance helps us to make the most of volunteers time but dropping in is also welcome.
A number of our volunteers have gone on to find the sort of work they have wanted and we are always happy to help in any way we can with this step forward.
Volunteer groups are also very welcome whether it is as part of a learning experience, a chance to use an indoor or outdoor space, or enjoy what GCCP has to offer to its Volunteers.
Please contact any member of the Management Committee or admin staff at theoffice.gccp@gmail.com
If you don't have time to volunteer but would still like to help out please have a look at our help page for other ways to donate much needed resources: News, offered and wanted
We 'Thank You' in advance for all and every offer of help, big or small!