Pantastic Community Steel Pan Band
We are a steel pan band where any ability and any age can join. Our youngest member starting at just 2 and our older members are quite a bit older ;-). At present we have 21 members who are a mixture of able bodied and varying disabilities. We practice every Monday night from 5pm – 7pm.  The pan band has been going since 1994 and seen many changes throughout the years and have played many a venue ranging from nursing homes, to The Royal Festival Hall, to The Sage, to Durham Cathedral, to taking part in The Armed Forces Weekend.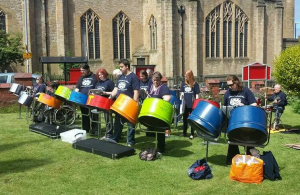 We are a non profit organisation and all money received goes straight back into the pan-fund to keep this wonderful band playing for the many communities that book us to play at their events.  This year is no exception as our packed Summer Programme is already in full swing and we are already getting bookings for Christmas.
Pantastic would like to welcome it's two youngest members are two year olds Toby Whiteoak and Luke Defty who make regular appearances with the band and everyone hopes they will join in with making music and having fun as soon as they are big enough to reach the Pans!
If you would like us to play at your event or are interested in joining please Contact Us
---
Learn more and contact information:
Here is a list of previous events we have done:
1st August – Elizabeth Fleming Care Home 1pm – 4pm
2nd August – Sunderland Harbour Day 10am – 4pm
30th August – Mini Mania 10am – 3pm
12th September – Penshaw Scarecrow Day 10am – 2pm
31st October – Winter Gardens Culture Event 11am – 2pm
18th December – Leechmere Centre 6.30pm – 7pm
*Times maybe subject to change or events cancelled due to unforeseen circumstances, for example weather.
If you want to contact Pantastic you can do so by going to pantastic.co.uk or by calling Steve on 07956109526. We are also on Facebook and Twitter.