Community Garden   –  Growing our space for everyone!
Hidden from view we have a variety of garden areas for any visitors to the building to use. A full acre!  Growing areas in raised beds & borders, where fruit and vegetables,  as well as a very productive orchard. A greenhouse means we can garden all year round and spend time growing the 'hothouse' favourites of tomatoes, peppers, etc. as well as sowing seeds.
Grassed areas are ideal for parties, sports and just 'spreading out'!  A willow tunnel for lends all sorts of adventures. Wildlife areas are left to nature with a lot of help from Garden Group, LEAF, Community Foundation, and CEED.  Two 'Bug Hotels' one of which houses two families of hedgehogs in 'the basement' ( younger ones enjoy feeding them) but they are quite shy! Crops are shared during times of glut including (100lbs of plums!) Jams and chutneys are made from our harvest and sold to raise funds for the garden. Volunteers and helpers of all ages (currently 2yrs  to 86yrs) help with the work and share the produce!
The Courtyard Garden is for quiet, sensory, meditation and safe play.
Please contact GCCP if you would like to give a hand in any part of the garden, get some gentle exercise, fresh air and de-stress or to use and enjoy our wonderful green spaces.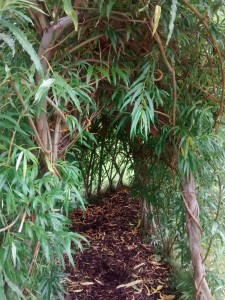 During 2018 The  Royal Horticultural Society helped us and funded a special development of an "Alice in Wonderland" area for sitting, picnics and sharing time with young and old.  In October 2018 we were delighted when our work to develop our Community Garden was recognised by the Royal Horticultural Society and Northumbria in Bloom with the award of Level 5, Outstanding in the It's Your Neighbourhood section of Britain in Bloom!
Thank you to Funders including RHS, LEAF (Community Foundation),  CEED, Sunderland City Council West Area Committee, as well as the people and groups who contributed with their work – Department of Work and Pensions, National
Citizen Service, local residents and to the URC Northern Synod Trust for continuing to give us their support and encouragement and for letting us use their buildings and gardens.
Thanks to our hard-working volunteers and West Area Committee of Sunderland City Council we now have a workshop completed and equipped.   By the side of the building, it will provide a sheltered space for creating, reusing and upcycling.  Space where mess can be made without being nagged and for the volunteers to find new, rewarding hobbies.