Community Garden   –  Growing our space for everyone
GCCP buildings are set in a variety of garden areas which are there to be used by all users as required.  We have growing areas in raised beds and borders where fruit and vegetables are grown for Community use as well as a very productive orchard. The new addition of a large greenhouse means we can garden all year round and spend time growing the 'hothouse' favourites of tomatoes, peppers etc.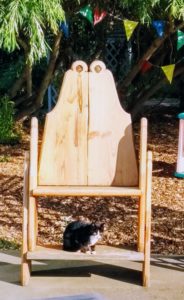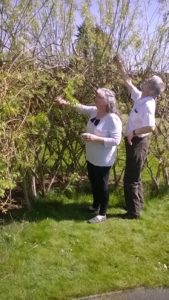 Large grassed areas are ideal for parties, sports and just 'spreading out'!  We have a willow tunnel which lends itself to all sorts of adventures as well as wildlife areas which are left to nature to look after with a lot of help from LEAF, Community Foundation and CEED.
Crops, grown organically,  are shared especially during times of glut including nearly a hundred pounds of plums from one tree last autumn!
There is plenty of room for lots of volunteers of all ages (currently 2yrs  to 86yrs) to help with the work and share the produce!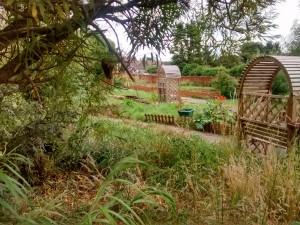 We also have an enclosed courtyard being developed for sensory use and restful times. It can also be used as a safe enclosed area for young ones' gentle play and a resting space or for quiet meditation.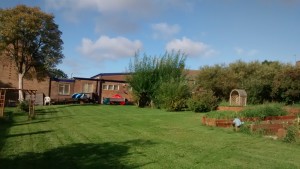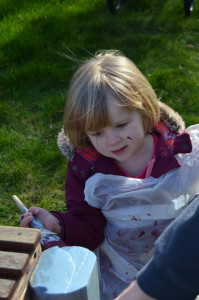 Please contact GCCP if you would like to give a hand in any part of the garden, get some gentle exercise, fresh air and de-stress or to use and enjoy our wonderful green spaces.
FAMILY FUN
DAYS :- during most school holidays we hold Family fun days to be enjoyed by all with lots more activities including cutting, sawing, planting, turfing, building and painting.  A free lunch for everyone who joins in. Come along for fun times!
This year Royal Horticultural Society  is joining us and funding a special development of an "Alice in Wonderland" area for sitting, picnics and sharing time with young and old.  Our first Alice in Wonderland Day is Wednesday 30th of May from 10-2 with light refreshments.  Families welcome and children must be accompanied by an adult to make sure it is a family day.