Grindon Painters
"I can't paint"! I insisted when I was told that there was going to be a beginner's watercolour class every Thursday morning, here at Grindon Church Community Project.
Although I did fancy the idea. Could I do it? Would my anxiety and lack of self – confidence cope with meeting new people and learning something new?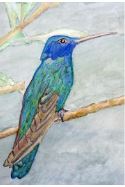 I have always wanted to be able to create something beautiful and I love to learn new skills; besides, the class sounded so relaxing and enjoyable. So it was I found myself, with gritted teeth, sitting with a room full of other prospective painters, all of us excited, but wondering, if we could, in fact, ever paint. 
We all began by making a name tag to experiment with the paint, the feel of the brush and a few various little tricks. Whet our appetite as it were. It certainly worked. Who knew that cling film and salt would have such an amazing effect? 
The following week, we were all back and there was definitely a new air of confidence in the room that hadn't been there the week before. We were off!
Since then our group has very quickly evolved into a little family. And guess what? We can all PAINT! The talent that Claudia, our lovely art teacher, has managed to find hidden inside of us all is truly outstanding.   
We have learned different techniques such as how to draw, then paint an object by hand or (and for some reason we all seem to prefer this)! how to trace the picture then paint it. We have learned many everyday 'Arty' facts such as; different paper types and what medias to use them with, the various paint brushes, differences in pencils (the little codes on the end of the pencils actually mean something, who knew)! The best of all this is, you don't even realise you are learning! Everybody just tootles along at their own pace with their own projects. Claudia is fantastic, she takes the time to go around everybody individually and help with their individual needs. 
I can honestly say that Grindon Painters has been the best thing to happen to me for a long time. When I am there my anxiety is reduced to such a level that I actually feel relaxed. My confidence in my own abilities has grown and my mental health has improved. Come Thursday morning I feel able to socialise and sit amongst others, which is something that I have not felt able to do for a long time. I have even taken it up at home and I have found that it helps me immensely.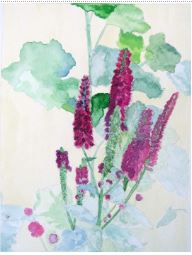 My Mam, who is in danger of suffering from social isolation and has anxiety issues of her own, also loves to come along every Thursday without fail, she has started painting at home and has had many hours of enjoyment from it. My Mam and I are just two of a regular group of fourteen, all with similar stories of their own. Everybody has testified how included, relaxed and close we have all become. We all help and encourage each other not only with our art, but with our personal problems too, a shoulder and an ear for those who want and need it. I can't wait for Thursday, it is officially my favourite day of the week! Come along, you will love it and we would love to see you there!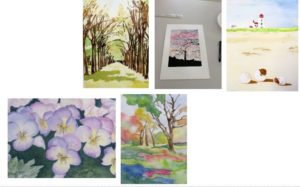 Grindon Painters runs every Thursday 10am – 12pm, GCCP, Galway Road, SR4 8JZ
By Barbara Carling 
20 November 2019 
Pictures credited :  Fran's Nametag, Carly's kingfisher, Liz and Fran drawing the orchids. Group Orchids. Beach Scene by Helen, Jo's Woodland Walk, Leanne's Sihouette, Fran's Autumn Splash, Violetta's by Kati, Victorian Flowers by Barbs, Nicole's Floral Scene